Webapps
Dual-Language "Welcome to Our School" App in English with 24 languages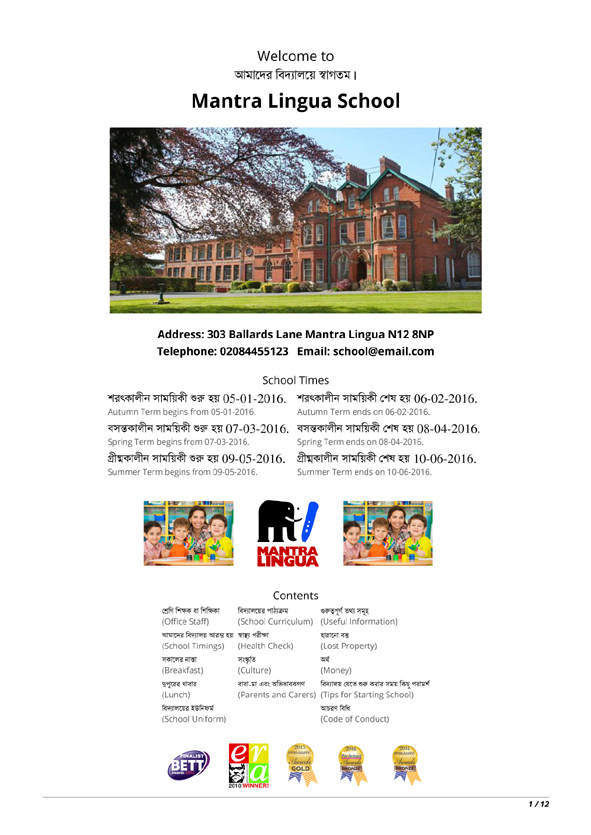 Passing on vital information to parents is key to pupils succeeding in school. With this in mind, Mantra Lingua has developed a web app for you to create your own personalised school handbooks. You specify the term dates, half-term breaks, parent-teacher evenings, school policies, and advice on how to get more involved with your school. Parents will continuously want to refer to their handbooks in order to gain an understanding of how your school works and the role that they can play.
You can print the PDF that you create. You can also place it on your school website for instant access.
We researched over 40 existing Welcome booklets and asked EAL consultants and co-ordinators.

"I love this! You have so clearly thought about what it is like to be a new parent. There is a clear sense of covering what a parent would want to know..." Erica Field, Rochdale EMA Service.
Please tap here or on the image on the right and watch a short video.

Translation App: Translate, by Humans, your English Text in 100 languages!

You may need just a sentence or paragraph translated on many occasions. This breakthrough solution demands no minimum charge, and will send a Word document with English and the home language to you within a maximum of 3 working days. Let's imagine that you wish to add a paragraph to the Welcome School form mentioned above. So you copy and paste it into the Translation App. Then you select the language(s) you need, and click 'send'. That's it.

Once you receive the Word doc, copy and paste it back into the Welcome App or any other document you are preparing. And you can use the same phrase over and over again!

Prices are fixed, regardless of language. £0.10 per word. We ask that you should try to send us a sentence at least if possible. Remember, we use humans and not computers. Indeed, Google Translate® is not available for many of our home languages, such as Somali and Dari. You can send us a Purchase Order with your sentence, or if you like you may send an advance and draw down from it. (10p per word is the usual rate for translation agencies, but with this app there is no minimum number of words or minimum costs).

Click here to use this webapp
Dual-language Pupil's Admissions App in English with 18 languages

Do your office staff face the challange of admitting new arrivals who are new to English? School Inspectors are always addressing what evidence you can demonstrate regarding Home Assessment and effective communication with parents. Our Pupils Admission App in dual language enables parents and teachers to understand each other effectively with important data about the child, home, family etc. The App can be used on iPads, Androids, computers, laptops, etc.

It is a dual language questionnaire, where the questions are as text with audio in the home language. There are nested questions depending on answers and filtered by age group. After completing the questionnaire, a dual language report can be printed out or emailed to various people at any time. You can also include a photo of the child and other photos - perhaps of the parents. Any class teacher would find this level of personalisation very useful. The app covers over 70 questions (in audio and text for the different languages). As the parent listens in their home language and answers a question, their answers are mirrored in English. At the end of the question, all answers are collated in as a .pdf document. Copies can be kept for administrators, for class teachers and TA's. Many of the children do not stay long at one school and therefore the hard copies of pdf can be handed on to the administrators of the next school.

We do not use Google translate. In fact, you can't for many of the languages EAL parents and children speak. Only human translators and human voices are used. The app costs £200 per year for all 18 languages. Or, you can buy a language at a time - cost is £20 per language per year. (To compare, if you had to translate and narrate the contents in one language this would be far over £200, and you can use the app to output an unlimited number of reports, maybe have one for each child. It takes about 10 minutes to complete the questionnaire.)

The languages are English with Arabic, Bengali, Bulgarian, Cantonese, Czech, French, Hungarian, Kurdish, Lithuanian, Panjabi, Polish, Portuguese, Romanian, Russian, Somali, Spanish, Slovakian, Tamil. To order with your prefences, please send details in your official order form. We will send you the App as a site licence so all relevant staff could access it. Since all reports can be emailed, when a pupil transfers to another class or school, the information can easily be transferred with them.

Click here to order this webapp