Partners
One of the key features of our mission is to collaborate with external organisations (Charities, Not For Profit organisations as well as Corporations) who have all found ways of bringing TalkingPEN technology into the work that they do.
Listed below are our partners to date:
RNIB PENFriend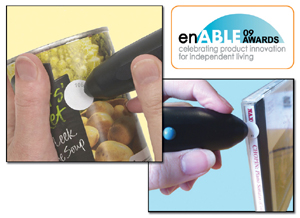 In partnership with the Royal National Institute for the Blind, RNIB UK, we pioneered this award-winning, best-selling product. PENFriend has been sold to the blind and partially sighted in the UK, the USA and Europe as an essential labelling device. An important, in fact vital, issue with blind people is a strong desire not to be a burden to others and always calling for their assistance. PENfriend has been a liberating factor. No longer do blind people have to ask fo help in finding the right CD or the can of tomatos.
This has been so appreciated that PENfriend won UK's 2009 Enable Award for 'the technology that changed lives'. In 2010 it won Canada's equivalent award too.
With the growing range of special easy-to-peel sticker packs (set A to set H so far), users can over 2000 individual sticky label which can record their voice describing anything: addresses, telephone numbers, cans of foods, diaries, CDs.... A video introduction can be viewed by clicking here or just follow this link http://www.youtube.com/watch?v=ePE0-U73Ajc
Tropical Tales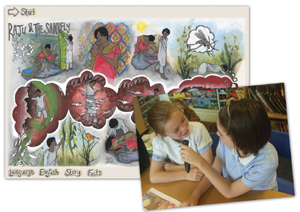 Tropical Tales is an art project involving the LSTM (Liverpool School of Tropical Medicine) and Chaturangan, a dance-in-theatre company. Trying to get children in the West to truely appreciate bugs and deseases in the tropics, this project looked at creative ways with children listening to experts and converting their understanding to stories and pictures. With the TalkingPEN they were able to produce talking posters with their voices explaining what was happening with insects and bacteria. The resources will be published as TalkingPEN posters, supporting Liverpool's 2010 "Year of Health and Well-being".

Each year the LSTM hosts researchers and students from around the world, who bring with them traditional legends, old wives tales, and anecdotes of experiences related to tropical medicine and health. The project gives local school children the opportunity to learn about the world, different cultures, health, nature, dance, music and storytelling.


"Parents as Successful teacherS" (PASS project)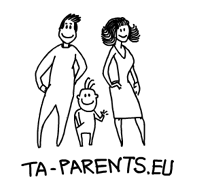 We are the UK partner in this transnational project including universities and education organisations in Germany, Italy, Latvia, Spain and the Netherlands. There is a trajectory in education philosophy which is along the following lines: in the past teachers taught and children obeyed. Next the focus switched to teachers working towards helping children to learn and understanding the learning process.
In the near future, especially for children in the West, the focus will be on thinking skills; teachers using their expertise in helping children to develop clearly defined thinking tools. The PASS project is the pre-cursor to this process in schools. Using parents in everyday situations, the PASS project will develop resources that will help children to acquire several thinking skills and tools in order that they acquire, in this project, the ability to speak a second language.
The project targets children 4 to 6 and will take 2 years to complete. A key philosophy or theoretical framework underlying the resources is the creative toolkit commonly called TRIZ. TRIZ, "The Theory of Inventive Problem Solving", is the methodology developed by a Russian enginneer who concluded that "creativity is something not inspired but something that can be structured." Although used extensively in solving engineering problems, this PASS project will look at how to use TRIZ in addressing language learning problems.
You can visit the PASS Project website (currently under development) here. This project counts with the support of the Lifelong Learning Programme of the European Union.

Learn to Read English Series
This is a structured reading programme covering 42 picture books in 26 audio languages and the corresponding 42 work books that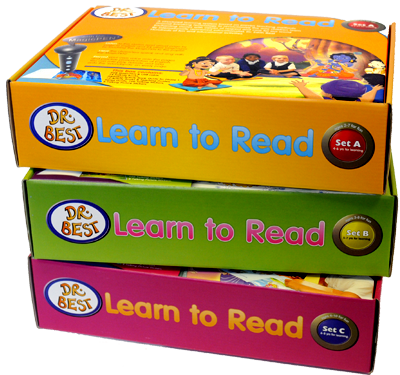 take children from 3 to 8 along the path of learning English. Published by Padma Inc, a USA based charity, this huge project has taken over 3 years to complete with donations and free contributions from peoples across the world. Padma Inc is part of the overall Harekrishna movement and author Dr Edith Best believes that 'the distinguishing feature of our books is that while they teach English in a very structured way, they at the same time inbibe in children values like taking care of the planet, sharing, giving and caring. The stories, even those at the start of the series, explain in simple terms the values that are so endearing to Krishna followers. For example, "Did Krishna Do It" is a playful story of a rather naughty boy and the love Mother and Son have for one another, even though Mum is made to work hard clearing up! All the 42 picture books are TalkingPEN enabled, where children can even record their voices on every page to practive speaking, narrating, pronunciation and role-playing. Another unique feature that Dr Best has added is the calibration: each book is mapped to the systems used in UK, USA and Australia/New Zealand. Now parents are able to check the progress of their child across any of the systems used in the English speaking world.
You can order books in the Learn to Read series from this website,


Bristol City Museum Audio Guide
TalkingPEN Publications has partnered with Bristol Museum, enabling blind visitors to find out about many historic artifacts for the time.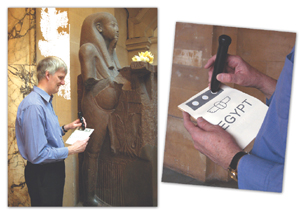 Objects in the Egypt exhibitions ast the museum have been given stickers with auidio descriptions stored on PENFriends.
It is the first time athat the musemum has provided Audio interpretation and the first time PENFriend has been used to improve access for visually impaired people in a museum or heritage setting.
"For visually impaired people, they just walk round museums adn it's jus one glass case after another. This really brought it to life. We knew what we were looking at, we knew the hitory of the items and how old they were adn what they were used for. All things that we had no idea of before." Jennifer Stirratt, registered blind person.
We are currently developing similar projects with The National Trust.
Ted Hughes Poetry Trail Audio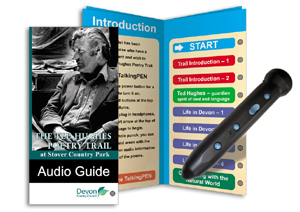 TalkingPEN Publications worked with Stover Country Park – a Site of Special Scientific Interest and a Local Nature Reserve that includes the Ted Hughes Poetry Trail. Using the TalkingPEN, they designed an audio pack for those who have a visual impairment and wish to enjoy the Ted Hughes Poetry Trail. Next to each title and poem on the sheet are soundspots for the TalkingPEN to play back the relevant recording. The poems in the pack were recorded by the nature poet Alice Oswald.
Cree Tribe from North America
We are partnering with a "First Nation" publisher in Canada with the aim of preserving the Cree tribes' aboriginal languages and dialects using TalkingPEN. The ancestral Cree language was once the most widely spoken in northern North America, ranging from the Rocky Mountains to the Atlantic Ocean. The Cree are the largest group of First Nationers with over 200,000 members. Their language has a common root and although there are some scripts, most of the communication is oral. Today the language is barely remembered and the partnership is designed to preserve the many dialects and revitalise them among the new generation of Cree peoples. The project involves several publications with low print run books where every page has numerous soundspots using our patented printing process.
Pulse, South Asian Dance and Music
Pulse is perhaps the world's first Arts Magazine which is sound enabled. This is a quarterly magazine on Indian Dance and Music practiced and performed in the world outside India. Publised by charity Kadam in UK, we have worked closely in providing a quarterly magnificent in the quality of its photographs and writing. Add sound and open the page on "Understanding Ragas". With TalkingPEN you can hear the differences and progressions that the author is writing about. You can listen to the music in dance performances, as well as previews of forthcoming CDs.
Imaginox, On-line Film School
Imaginox is an innovative online film school for those wanting to enter the film and tv industries. Using well-known individuals - with substantial films in their portfolio - students have various options to engage in specific courses such as script-writing, production, directing, etc. They can be observers or participants, having their work commented upon online by the tutors and direct engagement with them. There is a progression in the courses and once an adequate level has be passed, a student's work can be viewed by companies looking for accredited talent. The unique features of this film school are: well-known specialist tutors, a ground-breaking Learning Management System and a philosophy of progression - in the courses themselves and in a series of micropayments that enables students from all around the world to participate. www.imaginox.com. Courses will start from March 2011.